Monday July 20 2009 is the 40th commemoration day for the first men landing on the moon surface by Apollo 11 mission. Google has chosen to mark the event by releases a set of maps for Google Earth that allows you to browse on the surface of the moon. Google updated its most popular mapping software Google Earth 5.0 with a complete map of the moon that lets you explore craters, historic sites, and human artifacts. You can even view the moon in the style of Google Street View, checking out astronauts as they wander the moon's surface.
Google Earth is free software. So, you need only get the latest version to explore moon surfaces. If you don't have it already, you need to immediately download Google Earth 5.0. When it's be done then you are right to do the necessary upgrades.
To access the latest map of moon, look for the icon with the ringed planet on the Google Earth toolbar, and select "Moon" from the drop-down list. You will immediately recognize if there are also menu options for Mars and Sky.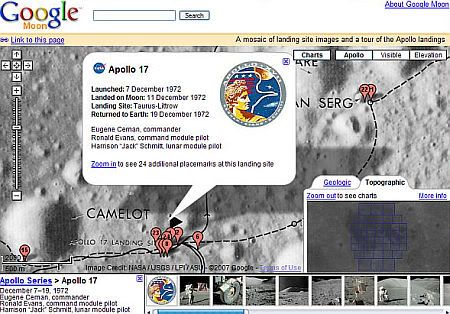 Those options are the developments from the earlier Google Earth. Google Maps users, sometimes, may also have been exploring the moon, the night sky, and Mars, in a web browser. Some amazing metadatas present with a moon map of Google Earth, making feasible to be downloaded.
There are interactive tours to views different moon surfaces with narrative accompaniment from the Apollo astronauts, Buzz Aldrin and Jack Schmitt. Google Earth also includes montage of 360 degrees images from the moon landing-sites, the clip was edited from various Apollo missions and a map of the training used by the Apollo astronauts.
Not lag from the Exploration, 3-dimensional model of the land on the moon surface, complete with the Space Shuttle, Exploration vehicles and the artefacts left by some people in the only Earth's satellite.