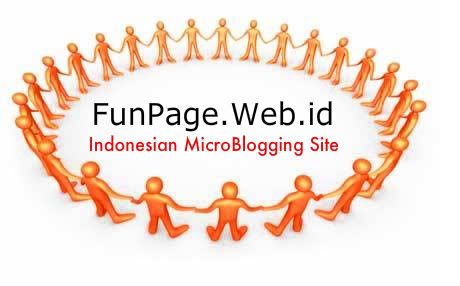 In a recent years there have been a lot of local social networking sites that popping up. One of the reason is nothing else but the emergence of global social networking sites, such as Facebook, Twitter and MySpace which then become such a trend all over the world.
The good news is, recently appeared more of a social networking site made by an Indonesian youngster. Its name is "FunPage" with the domain of http://funpage.web.id.
This site exactly not like the Mark Zuckerberg's Facebook with users reached 8.5 million people only in Indonesia. This newest Indonesian Networking Sites more like a combination of Twitter and Plurk, two of the most famous microblogging sites in Indonesia. Therefore, like Twitter, the FunPage has a concept of "follower" that allows its user to join their friends.
FunPage that launched on 64th Independence Day of the Republic of Indonesia, last August 17, is a Microblogging service that provides a personal page for its users. On those personal page then the user are free to express everything, from writes their daily activities, what do they feel, or just to meet their friends online and say hi. Like other social networking sites, in FunPage, users also can search for new friends or just simply looking for inspiration from another users writings.
Although the concept of FunPage following Twitter's concept, Fajareza or used to be called Reza as the admin and founder of FunPage said that he did not intend to compete Twitter. While Twitter "play" in the global market, he can only hope FunPage penetrated the domestic market. Since the targets are local users, Reza said that the site designed to be easy for use.
Because more like Twitter, almost all the features that Twitter has, been adopted in FunPage. By joining FunPage, users also can automatically updating the status of their accounts at Twitter simultaneously.